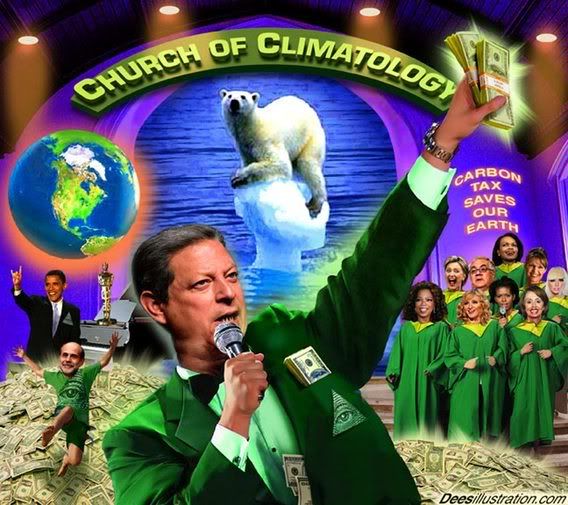 Climategate: the Final Nail in the Coffin
(Highlights)
If you own any shares in alternative energy companies I should start dumping them NOW. The conspiracy behind the Anthropogenic Global Warming myth has been suddenly, brutally and quite deliciously exposed after a hacker broke into the computers at the University of East Anglia's Climate Research Unit (aka Hadley CRU) and released 61 megabites of confidential files onto the internet.
When you read some of those files – including 1079 emails and 72 documents – you realise just why the boffins at Hadley CRU might have preferred to keep them confidential. As Andrew Bolt puts it, this scandal could well be "the greatest in modern science". These alleged emails – supposedly exchanged by some of the most prominent scientists pushing AGW theory – suggest: Conspiracy, collusion in exaggerating warming data, possibly illegal destruction of embarrassing information, organised resistance to disclosure, manipulation of data, private admissions of flaws in their public claims and much more.
LA Times Changes Its Mind: Science Doesn't Matter On Climate Bill
(Highlights)
The whole point of the meeting in Copenhagen (Dec. 09′) has been to limit pollution that supposedly destroys the planet based on evidence gathered and purported by researchers specifically involved in the email scandal. If the very premise of global warming has possibly been exposed as a fraud, why would that not be of interest to those who want to legislate global warming?
Even when faced with plausible evidence the whole thing might be a fraud, global warming believers simply found a way to assert that evidence was not necessary.
Climategate: 'They Are Criminals'
(Highlights)
This is what they did — these climate "scientists" on whose unsupported word the world's classe politique proposes to set up an unelected global government this December in Copenhagen, with vast and unprecedented powers to control all formerly free markets, to tax wealthy nations and all of their financial transactions, to regulate the economic and environmental affairs of all nations, and to confiscate and extinguish all patent and intellectual property rights.
Finally, these huckstering snake-oil salesmen and "global warming" profiteers — for that is what they are — have written to each other encouraging the destruction of data that had been lawfully requested under the Freedom of Information Act in the UK by scientists who wanted to check whether their global temperature record had been properly compiled. And that procurement of data destruction, as they are about to find out to their cost, is a criminal offense. They are not merely bad scientists — they are crooks. And crooks who have perpetrated their crimes at the expense of British and U.S. taxpayers.
With Hurricanes At Thirty Year Low, Gore Turns To Photoshop

Climategate: Scientists Would Rather Change Facts Than Their Theories