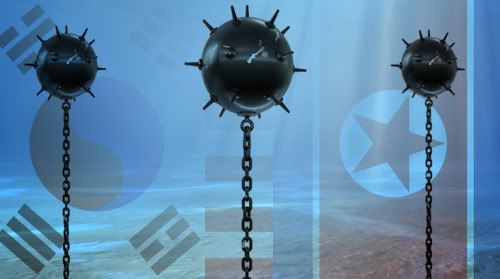 Did an American Mine Sink South Korean Ship?
(Highlights)
The sinking of the Cheonan took place in South Korean waters dominated by a joint U.S.-Korean base for anti-submarine warfare operations, an area North Korea admits it does not have the technology to penetrate with its submarines. It is speculated the USNS Salvor was was laying bottom mines in the area and a rising mine was inadvertently released. "If indeed it was an American rising mine that sank the Cheonan, it would constitute a friendly-fire accident," writes Yoichi Shimatsu. Or it was a Gulf of Tonkin incident intended to provide a pretext to blame North Korea. Either way, don't expect the corporate media to report on this.
Beijing Suspects False Flag Attack on South Korean
(Highlights)
One of the main purposes for increasing tensions on the Korean peninsula was to apply pressure on Japanese Prime Minister Yukio Hatoyama to reverse course on moving the U.S. Marine Corps base off Okinawa. Hatoyama has admitted that the tensions over the sinking of the Cheonan played a large part in his decision to allow the U.S. Marines to remain on Okinawa.