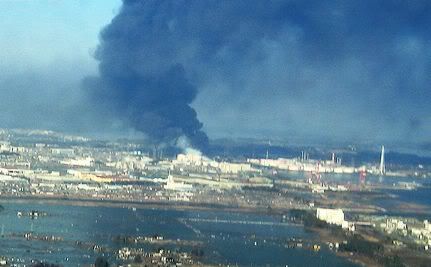 Nuclear Plant Designer Says Japanese Government Suppressing Scale Of Crisis
(Highlights)
He described the worst-case scenario: "It is difficult to say, but that would be a core meltdown. If the rods fall and mix with water, the result would be an explosion of solid material like a volcano spreading radioactive material. Steam or a hydrogen explosion caused by the mix would spread radioactive waste more than 50km. Also, this would be multiplied. There are many reactors in the area so there would be many Chernobyls."
Tanks With NBC Air Filters Sent To Destroyed Reactors
(Highlights)
Internationally known Physicist Dr Paolo Scampa has calculated that 70 Billion Lethal Doses of radioactive particles have been released from the Fukushima Daiichi six reactor site. That is enough lethal radiation to kill everyone on Planet Earth 10 times over.
MOX plutonium fuel used in Fukushima's Unit 3 reactor two million times more deadly than enriched uranium
(Highlights)
Largely absent from most mainstream media reports on the Fukushima Daiichi nuclear disaster is the fact that a highly-dangerous "mixed-oxide" (MOX) fuel in present in six percent of the fuel rods at the plant's Unit 3 reactor. Why is MOX a big deal? According to the Nuclear Information Resource Center (NIRS), this plutonium-uranium fuel mixture is far more dangerous than typical enriched uranium — a single milligram (mg) of MOX is as deadly as 2,000,000 mg of normal enriched uranium.
Mox Populi… Hubris and Plutonium Don't Mix
(Highlights)
The same confidence in the safety of Japan's nuclear plants led to the loading last fall of a new fuel type called MOX (mixed-oxide) into the core of the Fukushima #3 reactor. In contrast to the Uranium that powers most reactors, MOX is basically a Uranium cocktail spiked with Plutonium. Greenpeace reports that using MOX in a reactor is less safe because "plutonium is more reactive and this hotter fuel can cause increased localised melting of fuel in the reactor." A release or accident is also more severe, since plutonium is one of the nastiest and most toxic substances around, and MOX reactors have a lot more of it.
Forum – Reactor Meltdown Reached Criticality Worst Case Scenario Happening Now
Decrease radiation illness potentially by using these common items
Potassium iodide not always handy after a meltdown – There's no magic radiation antidote
Why 95% of Japanese May Not Suffer from Radioactive Iodine Exposure