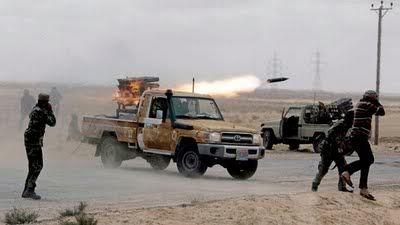 Libyan Rebels Fighting the Globalists' War
(Highlights)
If these rebels really think the West is going to hand them Libya and its riches, they have another thing coming. The Neo-Con arm of the globalist agenda is already seeding the ground to deal with "extremists" coming to power after the "Arab Spring" runs its course. That means Libya's oil & future will be left in the hands of NATO troops, not the Libyan people.
Libyan rebels will be betrayed just as quickly as Qaddafi was. They will be removed from power, and replaced by Western stooges protected by NATO ground troops, conveniently already being put on the ground in Libya, and will stay there permanently. The globalist "Neo-Con" think tank Foreign Policy Initiative has stated, "The best way to reduce the potential dangers posed by extremist infiltration is for the United States and its allies to remain engaged in Libya."
This engagement most likely will take the shape of the other unending "engagements" in Iraq and Afghanistan, and the years of cross-border raids into Pakistan. The oil money that once built water ways, public housing, and farms from Benghazi to Tripoli, will be funneled directly out of the country and into the corporate-financier's accounts. The corporate-financier oligarchs will have taken yet another nation-state down with the help of its own gullible population, and for their gullibility, they will pay for the rest of their lives, as will their children and their children's children.