"The bigger the lie, the more people will believe it" ~ Joseph Goebbels
"You can ignore reality, but you can't ignore the consequences of ignoring reality." ~ Ann Rand
"Facts do not cease to exist because they are ignored." ~ Aldous Huxley
"Once you eliminate the impossible, whatever remains, no matter how improbable, must be the truth." ~ Arthur Conan Doyle
(NOTE: The military has advanced weaponry that is, some say, at least 50 years ahead of anything that they show the public.)
The "Official US Government Fable" for 9/11/01 is that the Twin Towers came down in a "Classic Pancake Theory" where the top floors of a building fall upon each other ending up looking like a "Stack of Pancakes." Here's an example of what that looks like in reality…….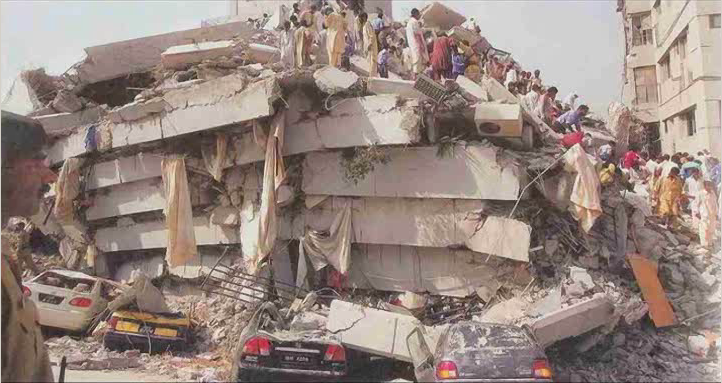 But on 9/11, this is what it actually looked like at "Ground Zero." No "Pancake Floors" here………..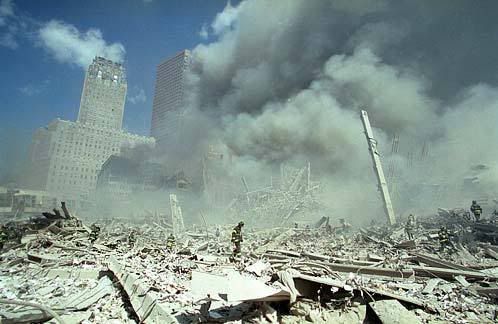 Instead of turning into a "Stack of Pancakes," the Twin Towers mostly turned into a whole bunch of dust……….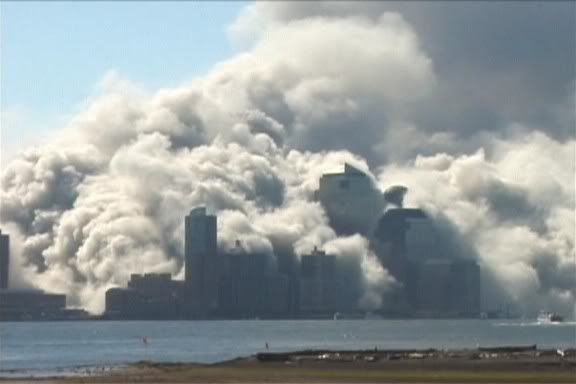 This extraordinary photo shows the top of WTC1 vaporizing before our eyes………….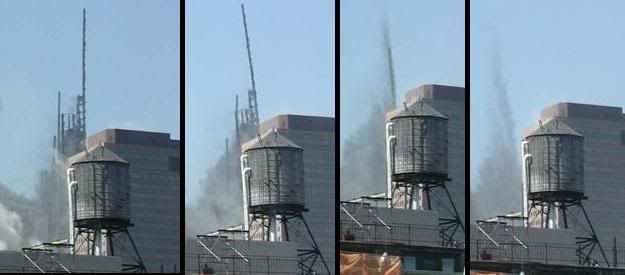 The Twin Towers were destroyed faster than physics can explain by free fall speed "collapse." They underwent mid-air "pulverization" and were turned to dust before they hit the ground. The resistance of each floor crashing into each other ("Pancake Theory") would have taken much longer (over a minute) than the 10 seconds in which the towers when down.
If this million tons of debris actually hit the ground, it would have registered a huge seismic reading on the richter scale equipment….it hardly even made a reading.
The upper 80 percent, approximately, of each tower was turned into fine dust and did not crash to the earth. The upper 90 of the inside of Building 7 was turned into fine dust and did not crash to the earth.
Only one file cabinet out of thousands of file cabinets survived.
No toilets survived or even recognizable portions of one.
Office paper was densely spread throughout lover Manhattan, unburned, often along side cars that appeared to be burning.
Many motor vehicles were towed away toasted in strange ways (melted steel), during the destruction of the Twin Towers (some a half mile away).
The Twin Towers rubble pile was far too small to account for the total mass of the buildings.
This "Dustification" was most likely caused by Advanced Exotic Technological Scalar Wave Weaponry and or Micro Nukes ("Ground Zero") using "Directed Energy" which maybe a combination of microwaves and lasers.
Where Did The Towers Go? (Video Part – 1)
Where Did The Towers Go? (Video Part – 2)
Where Did The Towers Go? (Video Part – 3)
The Journal of 9/11 Research and 9/11 Issues