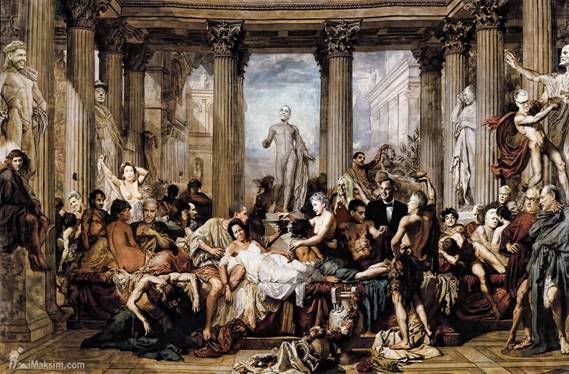 Orgies Of Empire
(Highlights)
Empire's have been with the human race almost from the beginning of time, or at least since we began to try and keep track of ourselves through what we call history. There is a single common denominator, aside from all the others: Every one of these takeovers has been "financed" by others to increase the power which the financiers seek.
What is happening around the world today is something that was deigned to happen everywhere so as to destabilize the entire planet simultaneously. This is a full-scale war against the 99% of the population that is demanding an end to Empire and to the self-serving orgies of power that the slightly less than one percent now enjoy.
If you doubt this then just look at the vast amounts of money that are thrown into supposedly necessary 'SECURITY' mechanisms that are beginning to enslave this country. From the 60,000 strong TSA that istaking its fight against the public onto the highways and into the bus and train terminals, as well as the airports all of which is completely unconstitutional, and un-American. Our people are starving, almost half of us are now unemployed, our infrastructure is collapsing, our health-care system is non-existent and cuts are being made everywhere that public services were once mandated across the nation. The privatized-government has instead chosen to keep right on sending trillions to Zionist-Israel, while starting new wars every month, in addition to funding ever more ridiculous scanning and testing equipment to spy-on and interfere with daily life in America.
Virtually everything is now at stake in this protest-revolution that is sweeping the planet. The Globalists might well have designed it to increase the global-chaos (to accompany the new and ever-expanding wars for total-dominance): But if we take control of The OOCUPY DEMONSTRATIONS, both here and abroad, as the individuals-most-directly-affected, with our own minds and our community based thoughts; then we may yet be able to snatch Victory from the jaws of impending Global-Defeat!
If we do not do this then the Orgies of Empire will simply have billions of new victims to dine upon. . .