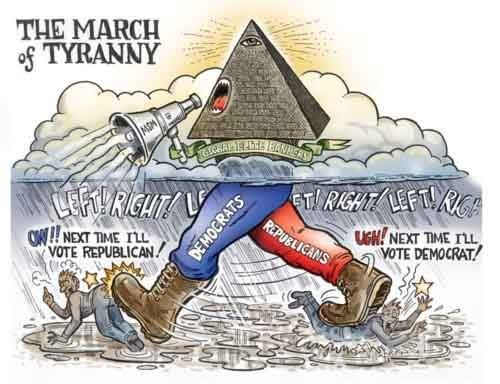 ALL POLITICIANS SUCK!
If you're supporting Obama for re-election….consider this:
(NOTE: Rommey SUCKS too!)
* Guantanamo is still open
* NDAA espanded idefinite detention to you & yours
* We have more military conflicts now, not less
* Your government is less accountable
* Your corn muffin still contains GMOs
* New GMOs have been approved
* GMOs are still not labeled
* Wall Street has more privacy
* Big Pharma has more reign
* By CPI, your dollar is worth about 73 cents
* Gas prices are 200% of what they were
* 50%+ democrats have now re-registered as "No Party Affiliation"
The Criminal Class In Washington Is Bipartisan
(Highlights)
Electoral politics also highlights its clear and present danger. It involves rogue politicians competing to be part of Washington's corrupted duopoly run system – especially the top job as president.
Both sides support corporate interests, imperial wars, and the divine right of capital to exploit workers, plunder resources, control markets, and rule unchallenged. Beneficial social change, independent voices, and electoral democracy lose out under a rigged system against them.
Democracy in America's shear fantasy. Money power controls everything. Candidates are pre-selected. Privatized elections assure corporate favorites win. Democrats are interchangeable with Republicans. Differences between them are minor, and none whatever on what matters most.
Consider the unpalatable 2012 presidential options. Voters get to choose between a lawless, crime boss, militarist, pro-war, anti-populist president, and a rogue's gallery of Republican aspirants, looking more like a police lineup than legitimate candidates for any office, let alone the nation's highest.
By comparison, Ron Paul looks good, but his platform shows otherwise. He wants social America abolished. He believes government's only role is to respect, protect, and defend personal liberties.
In other words, government's responsibility for universal healthcare, education, and other essential services is incompatible with personal freedom. Everyone should be on their own to provide them, even though millions, through no fault of their own, can't.
Yet he's the best of the lot. Obama proved what loyal supporters thought impossible. On domestic and foreign issues, he's governed to the right of George Bush. He does it lawlessly for the monied interests that own him.
He's waging multiple imperial wars, plans others, looted the nation's wealth, wrecked the economy, consigned growing millions to impoverishment without jobs, enough income, or futures, illegally spies on Americans more aggressively than Bush, and institutionalized tyranny to target dissenters challenging political corruption, corporate crooks, or abuse of power lawlessness.
He also promotes regime change in Syria, Iran, Venezuela, Lebanon, and other independent states. In addition, he targets Russia's military strength and China's growing economic might. At the same time, he supports ruthless, corrupt tyrants, and Israel's worst crimes.
After its devastating earthquake, he militarized and occupied Haiti. He belligerently ousted Honduran President Manual Zelaya and Libya's Gaddafi. He presides over a bogus democracy under a homeland police state apparatus.
He's waging class war against Social Security, Medicare, Medicaid, public and private pensions, as well as other New Deal and Great Society gains. He wants more aggressive media control than Nixon, according to former White House correspondent Helen Thomas.
He imposed austerity when vital stimulus is needed and real unemployment approaches 23%. He promotes "shared sacrifice" to force ordinary people to sacrifice so America's super-rich can share.
He authorized indefinitely detaining anyone called a national security threat without charge (including US citizens). He continues Bush's rendition and torture policies. He authorized state-sponsored assassinations, including US citizens considered a national security threats, whether or not true.
He deployed Special Forces death squads covertly to 120 or more countries. They're in Syria, Iran, and other independent states working for regime change.
He destroyed hard won labor rights, and wants education commodified as another business profit center. He wages war on whistleblowers, dissenters, Muslims, Latino immigrants, and environmental and animal rights activists called terrorists.
No matter. He'll likely get another four years to do more damage and complete unfinished business, at the expense of growing millions enduring poverty, homelessness, hunger, and despair in the world's richest country. He's thrown them overboard to serve wealth and power interests alone.
As for Romney he wants workers denied union representation. He's pro-family, pro-life, pro-gun, pro-Israel, pro-war, pro-corporate, and entirely anti-populist. He and Obama support the same hard-right agenda. Virtually nothing distinguishes one from the other on issues mattering most.
Given the post-9/11 path followed, the worst is yet to come domestically and abroad unless grassroots rage stops it.
If wanting better futures and imperial wars stopped aren't worth fighting for, what is? If not now, when? If not us, who? If that's not important enough, what is?