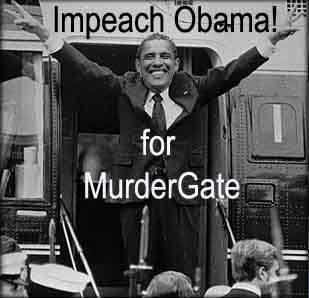 Obama Hides Behind 'Executive Privilege' In Damage Control Over Fast and Furious
(Highlights)
The "Fast and Furious" undercover operation involved ATF, DEA and FBI agents working under the direction of the US Department of Justice, were illegally acquiring firearms through straw purchasers in states like Arizona, and then intentionally flooding the black market around the Mexican border regions with thousands of illegal guns – in order to demonize and regulate gun sellers in US border states. As a result, multiple lives were lost at the hands of gangs using Fast and Furious weapons including federal agents in the line of duty. The operation was ultimately designed to set the stage for further restrictions on the Second Amendment and increased gun restrictions in the near future.
Obama's latest retreat towards executive privilege may be construed by the public and some media as an indirect admission of guilt by association, and will most likely lead to an increase in damage control from White House spin doctors – hoping to avert a similar fate suffered by Richard Nixon, whose cover-up went from bad to worse and eventually led to his humiliating resignation.
Fast and Furious: Plot to Disarm American Citizens
(Highlights)
What could the president and the attorney general possibly be trying to hide? What if the gun running fiasco that is Fast and Furious was a plan to discredit the gun industry so as to create a political environment more favorable to stronger gun control laws? What if this plan is in the documents Eric Holder refuses to release and now the president is trying to hide by using the veil of executive privilege? Socialists and those who want to "fundamentally transform America" have long believed that past attempts at imposing Marxist philosophy failed because of violence. What if they tried one more time to impose Marxism by disarming the American citizen and removing the violence factor?
If the documents that the Obama administration are hiding contain conspiracies to use this as an excuse to push for stiffer gun regulation and ultimately put the government in control of the citizens' guns, it would be beyond scandalous. Not even the Obama-mania media could retain their credibility if it was blown wide open that the Obama administration planned on disarming the American people so that they wouldn't react violently to the imposition of the socialism that might come in an Obama second term.
Fast And Furious, Watergate On Steroids
(Highlights)
A surprise and shocking development met law makers upon the start of Wednesday's proceedings. Barack Obama claimed Executive Privilege on all remaining documents concerning Fast and Furious and the administrations response through internal memos etc. This wreaks of a cover up that now makes Watergate look like a Sunday School picnic.
For Executive Privilege to be claimed either Holder is lying about Obama's knowledge or Obama is lying about when he learned of it or both. Again wreaking of a massive cover up to keep the public from knowing that Holder and Obama were aware of guns being sold across the border by the Justice Department and then an ongoing attempt to prevent knowledge of it from going public until the whistle blower came forward.
Now we face a Constitutional crisis brought on by the Obama administration and especially Eric Holder. In order for the Constitutional check and balances as well as separation of powers to be fulfilled as intended by the Constitution, Congress must hold Holder accountable for his perjury and obstruction of justice. Additionally Obama must also be held accountable for obstructing justice by the issuance of the Executive Order on legally subpoenaed documents which the Executive Order prevents release of without appeal to the courts, thus delaying the completion of justice on this debacle turned weapons sold for Cartel murders. If the courts then release the documents it may well be found that Obama knew much more than is being told and must be held equally accountable.
If Holder and Obama are not held accountable a clear message will be sent that the three Branches of our government no longer function in a check and balance system, the Constitution will be virtually ripped asunder and Obama will get away will using dictatorial powers to prevent legal action on illegal matters pertaining to his administration. And this shall signal the beginning of the end of our Republic falling to the fate of the Ceaser's as Rome did.
Barack Obama's Bloodiest Scandal
(Highlights)
Operation Fast and Furious is the deadliest and most sinister scandal in American history. A scandal so big, it's worse than Iran-Contra and makes Watergate look like a high school prank gone wrong.
In the early days of the Obama Administration, President Obama claimed his goal was to stop the trafficking of guns from the United States into the hands of violent Mexican drug cartels. He claimed gun dealers in the United States were responsible for sending guns to Mexico. Both of his claims were lies.
In order to push his lies and policies built around them, with a goal of implementing harsher gun control laws and reinstating the assault weapons ban, President Obama packed his administration full of anti-Second Amendment zealots. After all, personnel is policy.
In my new book, Fast and Furious: Barack Obama's Bloodiest Scandal and Its Shameless Coverup, I document the conspiracy of senior Obama officials to subvert the Second Amendment, which led directly to the murders of Border Patrol Agent Brian Terry, I.C.E. Agent Jaime Zapata and countless, faceless lives in Mexico. It debunks the Obama administration's lies, denials and excuses. This administration was willing to use humans as collateral damage to push a political agenda, and had no shame in doing so. Now, the administration has no shame in covering up their reckless actions.
Operation Fast and Furious wasn't a "botched" program. It was a calculated and lethal decision to purposely place thousand of guns into the hands of ruthless criminals. The operation was a coordinated and planned effort not to track guns, but to arm thugs south of the border for political gain. Eric Holder should be removed from office for incompetence, dishonesty and charged with perjury. My sources, documented in the book, say Janet Napolitano may also face charges of perjury and potentially obstruction of justice. It is time for President Obama to take responsibility, denounce the operation and fire those involved (including himself).
NRA's LaPierre: 'Fast and Furious' Was Plot Against Second Amendment
(Highlights)
The government-sanctioned gunrunning operation Fast and Furious was a plot to undermine Second Amendment rights in the United States, National Rifle Association officer Wayne LaPierre charged on Friday in an exclusive interview with Newsmax.TV.
"It's the only thing that makes any sense," LaPierre said. "Over a period of two or three years they were running thousands and thousands of guns to the most evil people on earth. At the same time they were yelling '90 per cent… of the guns the Mexican drug cartels are using come from the United States.'
"That was a phony figure from the very start. Even the Wikileaks cables from our own State Department prove they are coming from Central America, they are not coming from the U.S. Every police officer will tell you that they're coming from Russia, they're coming from China, most of them are coming from Central America and a lot of them are coming from defections from the Mexican Army," said LaPierre, the NRA's executive vice president and CEO.
But LaPierre said that President Barack Obama, Attorney General Eric Holder, and Secretary of State Hillary Clinton were determined to make it appear that most weapons used by the Mexicans came from north of the border, "so they could stick more gun legislation on honest American gun owners of the United States."