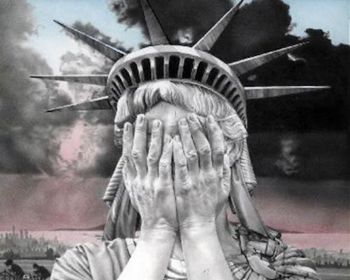 Liberty Lovers Mourn This Independence Day, but Hope Remains
(Highlights)
As Americans celebrate Independence Day this Fourth of July with barbeques and fireworks, more than a few patriots and lovers of liberty are instead mourning the steady loss of freedom; the erosion of unalienable rights that seem to be trampled upon more and more after each election. But despite the current climate — perfectly illustrated by the never-ending series of "Homeland Security" reports characterizing the beliefs of America's Founding Fathers as potentially terroristic — optimism about the future of freedom and American independence is growing as well.
America's Malignant Political Monopoly
(Highlights)
Political power is always abused for self interest. The nation's forefathers understood this and to their credit tried to build effective checks and balances into our budding Republic. Our forefathers never envisioned a day when money contributed by corporations and the wealthy class would be able to seize control of the entire political system and rewire government power to serve a miscreant political class. Welcome to America, a country ruled by corporations, the wealthy elite and Semitic influence for their own benefit.
Occupied US celebrates Independence Day
(Highlights)
On July 4th, 2012, the USA is no longer a free and independent nation. The USA today is occupied by an array of hostile forces even more nefarious than the British crown.
We are occupied by the Zionists, who control the media, Congress, and the White House. Our top layers of government are infested by US-Israeli dual citizens. They cannot be accused of dual loyalties, since it is so obvious where their one and only loyalty really lies.
We are occupied by the banksters, who have squeezed more than 20 trillion dollars in bailouts out of our economy during the past four years, paving Wall Street with gold and leaving Main Street on life-support.
We are occupied by the military-industrial complex and its police state, which has murdered our greatest leaders, and with them our democracy.
We are occupied by the 1%, the super-rich who have seized power and re-written the rules in order to make their lives easier, and ours more difficult.
Independence Day — Yeah Right!!!
(Highlights)
Everything you do is regulated, everything you say is monitored and censored, and every transaction you make is taxed. Even the "free" choices you make are restricted and controlled by the government. When you choose between a limited set of options, you don't actually make a real choice at all. Make no mistake: you are under complete control.
Are You A Slave Of The System
(Highlights)
If you went out and took a poll of the American people on July 4th (Independence Day) and asked them if they are free, what would the results look like? Of course the results would be overwhelmingly lopsided. Most Americans believe that they live in "the land of the free" and that they are not enslaved to anyone. But is that really the case? Slavery does not always have to involve whips and shackles. There are many other forms of slavery.
Babylonian Goddess Ishtar the Mother of Harlots and the Goddess of Freedom/Liberty
(Highlights)
You probably didn't realize it but America is steeped in Idols! Yes and the Statue of Liberty is actually a replica of the Babylonian goddess Ishtar the Mother of Harlots and the goddess of Freedom/Liberty. This "artwork" was created by a Freemason who wanted to honor a Masonic doctrine that dates back to before Nimrod!