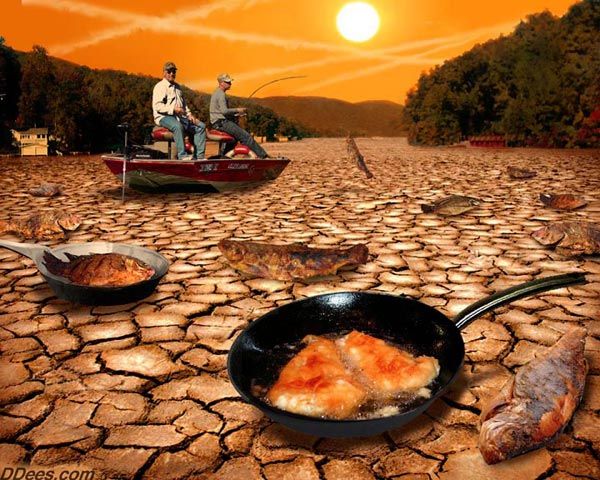 Drought Stalks the Global Food Supply
(Highlights)
When rain doesn't fall in Iowa, it's not just Des Moines that starts fretting. Food buyers from Addis Ababa to Beijing all are touched by the fate of the corn crop in the U.S., the world's breadbasket in an era when crop shortages mean riots.
This year they have reason to be concerned. Stockpiles of corn in the U.S. tumbled 48 percent between March and June, the biggest drop since 1996, the U.S. Department of Agriculture said last week. And that was before drought hit the Midwest. Chicago last month saw its first 100F June day since 1988, the year parched ground caused $78 billion in crop damage. The percentage of the corn crop with top-quality ratings was 48 percent as of July 1; it was 69 percent a year ago. And with little rain in the forecast, farmers can only hope to preserve what crops they can while watching corn futures rise 33 percent since June 15, to $6.75 a bushel.
This year's dryness is intensifying just as the plants reach their most sensitive development stage. If ample rain doesn't fall by mid-July, U.S. farmers may face catastrophe, says Matthew Rosencrans, a National Weather Service meteorologist who specializes in drought.
Food prices actually have fallen in recent months. World nutrition costs in May were 13 percent lower than their April 2011 peak, in part because of a global grain crop that was nearly 7 percent larger than the previous year. U.S. corn acreage is at its highest since 1937, and favorable weather is boosting staple-foods production in the European Union. Ample rice supplies may also lower food-supply risks, while a potential El Niño weather pattern later this year may help northern-hemisphere crops, says Abdolreza Abbassian, a senior economist with the United Nations' Food & Agriculture Organization in Rome.
Still, a failed crop in the U.S., the world's biggest exporter of corn and wheat, would raise food costs and stifle the U.S. farm boom that has been built on growing overseas shipments. If prices keep rising, that could mean trouble elsewhere around the globe, where failed crops can mean failed states.
An extended U.S. drought would have a "tremendous" impact on world food prices, as a higher cost for one dollar-denominated export crop cascaded into others, Abbassian says. "The world looks to the U.S. as the safest source of supply," he says. "Everyone watches the U.S. because they can rely on it. Without it, the world would starve."
The U.S. isn't the only place with problems. Early-season dryness again threatens to wither Russia's wheat, and the worst start to India's monsoon season in three years is endangering crops, raising the specter of a return to the export restrictions in the region that drove prices up sharply five years ago.
The bottom line: With U.S. stockpiles of corn down 48 percent, concerns are mounting that this year's crop won't meet the world's needs.
4500 Record Highs Broken: Jet Stream Pulled up Towards Canada, 'Out of Whack' Says U.S. Meteorologist
What is causing this? – Blistering, potentially deadly heat forecast for much of U.S.
(Highlights)
A few things are working together to contribute to the scorching temps, but chief among them are: Summer, Sun, and the fact that the Gulf Stream stopped in 2010.
Seriously, the Gulf Stream helped regulate where the Jet stream was located over the US and Europe. It stopped and now the Jet stream is waving North and South like a loose flag. Right now it is arching over the United States creating a massive area for the Sun the fry the heck out of anything below North Dakota.
The seasons are swinging wildly one way and then another. Remember the really mild winter and warm March? Yeah, well after that my apples and grapes had tons of fruit bursting out on them until they froze, withered, and fell off in April and I'm in Tennessee.
Something is affecting the Sun. The Gulf Stream, Jet Stream, and as a result out weather are going nuts.
(How about the BP Oil Spill? Or perhaps Chemtrails as well?)