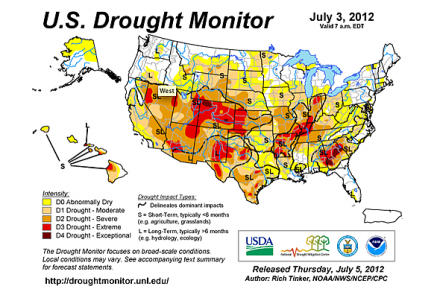 The Corn Is Dying All Over America
(Highlights)
All over America the corn is dying. If drought conditions persist in the middle part of the country, wheat and soybeans will be next.
Weeks of intense heat combined with extraordinarily dry conditions have brought many U.S. corn farmers to the brink of total disaster. If there is not significant rainfall soon, many farmers will be financially ruined.
This period of time is particularly important for corn because this is when pollination is supposed to happen. But the unprecedented heat and the extremely dry conditions are playing havoc with that process. With each passing day things get even worse. We have seen the price of a bushel of corn soar 41 percent since June 14th.
That is an astounding rise. You may not eat much corn directly, but it is important to realize that corn or corn syrup is just about in everything these days. Just look at your food labels.
In the United States today, approximately 75 percent of all processed foods contain corn. So a huge rise in the price of corn is going to be felt all over the supermarket. Corn is also widely used to feed livestock, and if this crisis continues we are going to see a significant rise in meat and dairy prices as well.
Food prices in America have already been rising at a steady pace, and so this is definitely not welcome news.
But it's unusual for a vast swath of the Midwest to be so very hot and so very dry for so very long — particularly this early in the summer.
The current heat wave — which is spurring comparisons to the catastrophic heat of 1936 – is "out of whack," meteorologist Jim Keeney said Friday in an interview with the Los Angeles Times.
Midwest Drought Could Mean Food Price Hike Down the Road
(Highlights)
A punishing Midwest drought may lead to food inflation as the cost of corn soars and the price of a key feedstock for ranchers rises. Experts warn it could mean higher costs for everything from a hamburger to a gallon of milk in the months ahead.
"Farmers are going to have higher feed prices. We're definitely going to see food inflation coming into the equation," said Phil Flynn, a veteran commodities trader for the PFGBest brokerage in Chicago. "I think we're at the point of bigger problems. This was one of the most critical weeks, and we didn't get the rain that we needed."
Big users of grains, namely ranchers who depend on corn as a feedstock for their animals, are taking the first hit.
"This is going to be a beef issue, as well as a pork and poultry issue. We're all sitting here with short breath watching the soybean and corn crops develop this year," said Michael Miller, the senior vice president of global research for the Denver-based National Cattlemen's Beef Association.
Northwest Heat Endangers Crops
(Highlights)
It's been more than a month since Jerry Mann's 9,000-acre farm has gotten rain, and when the 56-year-old Montana man examines the dry, shriveling kernels of wheat and barley, he's understandably nervous. "We're looking at a 30-40% drop in the usual yield if we don't get some rain here real soon," he said.