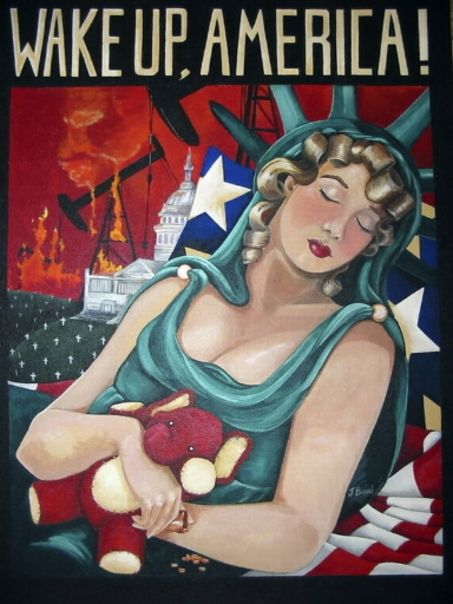 Department of Homeland Security buying up enough ammo to wage seven-year war against the American people
(Highlights)
The Department of Homeland Security (DHS), an agency that says its main purpose now is to thwart "homegrown terrorism," has awarded a contract to ammunition manufacturer ATK for acquiring 450 million rounds of .40 caliber hollow point ammo.
"Hollow point" ammunition is never purchased for practice or training. This ammunition is purchased for the sole purpose of being used in active fighting. At the same time, it is a violation of the Geneva Convention to use hollow point ammunition on the battle field.
This is crucial to understand. It means the occupying federal government is acquiring this ammunition to be used against the American people. Furthermore, DHS does not fight wars overseas. It is a domestic agency with domestic responsibilities. Its purchase of .40 ammunition is a clear and obvious indication that DHS plans to wage war on the American people.
Arming TSA agents
I have no doubt that the ultimate plan here is to arm TSA agents and unleash them across the USA as a new storm trooper force to put in place total tyranny across the country. The military will be kept out of it precisely because most soldiers would refuse to participate in tyranny, as they actually have morals and ethics.
The next logical step in the downward spiral of oppression is to arm these agents and use them to slap down total police state tyranny across America. At the first opportunity — probably after a government-staged false flag attack involving a dirty bomb or a bioweapons release — these TSA goons will be set up on every major road and highway, using their new bulletproof roadway checkpoints and their .40 caliber hollow point ammo to put America into a complete Martial Law clamp down where everybody is considered a possible terrorist, and secret arrests (torture, interrogations, beatings, etc.) are commonplace.
What happens from there is anyone's guess, but I can't help but think such a plan might be deliberately designed to start a shooting war with the American people, because at that point armed TSA agents can be unleashed to just kill and rape anyone they want under the banner of "protecting the homeland." (Hence the name "Homeland Security" which is, of course, intentionally borrowed straight out of Nazi Germany and its term "Heimatland.")
Why Does The Department Of Homeland Security Need 450 MILLION Hollow Point Bullets?
(Highlights)
Somebody out there has decided that the Department of Homeland Security needs a whole lot of ammunition. Recently it was announced that ATK was awarded a contract to provide up to 450 MILLION hollow point bullets to the Department of Homeland Security over the next five years. Is it just me, or does that sound incredibly excessive? What in the world is the DHS going to do with 450 million rounds? What possible event would ever require that much ammunition? If the United States was ever invaded, it would be the job of the U.S. military to defend the country, so that can't be it. So what are all of those bullets for? Who does the Department of Homeland Security plan to be shooting at? According to the U.S. Census, there are only about 311 million people living in the entire country. So why does the Department of Homeland Security need 450 million rounds of ammunition? Either this is an incredible waste or there is something that the Department of Homeland Security is not telling us.
I could understand if the U.S. military was ordering ammunition in this quantity. When you fight wars you can go through ammunition very rapidly.
But the Department of Homeland Security is only supposed to be shooting at people very rarely.
It simply does not make sense that they would need so much ammunition.
Preparing for Civil War: Chart Shows DHS Has Bought Hundreds of Millions of Rounds of Ammo Since 2009
(Highlights)
In the last six months many articles and reports have been written that detailed the hundreds of millions of rounds of ammunition that the Department of Homeland Security has purchased since Obama took office in 2009.
This astonishing amount of purchased ammunition has lead many to speculate and believe that homeland security is actively preparing for what they believe will be a bloody and extremely violent American uprising and or civil war.
When you couple this large scale buildup of ammo with bulletproof checkpoints, law enforcement bulletins labeling everyday Americans as possible terrorists, and a series of videos that painted middle class Americans as the new Al Qaeda you can clearly see that at least portions of DHS are planning for some sort of violent confrontation with the American people.